BMW M135i / M140i & M235i / M240i Dynamics Package Upgrades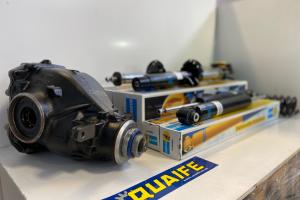 The Birds B-Series Dynamics Packages for the BMW M135i / M140i and M235i / M240i are combinations of our B-Series Sport Suspension Kit, designed to transform the ride and handling performance of these M-Lite BMWs on UK roads, and Quaife ATB Limited-Slip Differentials, which offer significantly improved traction during spirited driving.
Package breakdown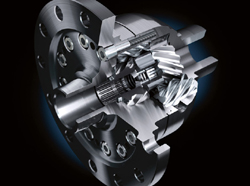 The Quaife ATB Limited-Slip Differential is the ultimate fit and forget traction solution for road cars. Its unique and patented gear-based design allows a progressive transfer of torque away from the spinning wheel and onto the wheel with more grip, allowing the car to accelerate to its true potential. Unlike conventional LSDs such as BMW's own M-Performance option, it does not use clutches or other wearing internals, so performance will not deteriorate during its life before eventually wearing out completely. The Quaife comes with a limited lifetime guarantee, and requires no servicing or maintenance. It is completely silent in operation and works in perfect harmony with the standard car's electronics.
Check out Autocar and EVO Magazine's reviews of how the Quaife improves the BMW M135i!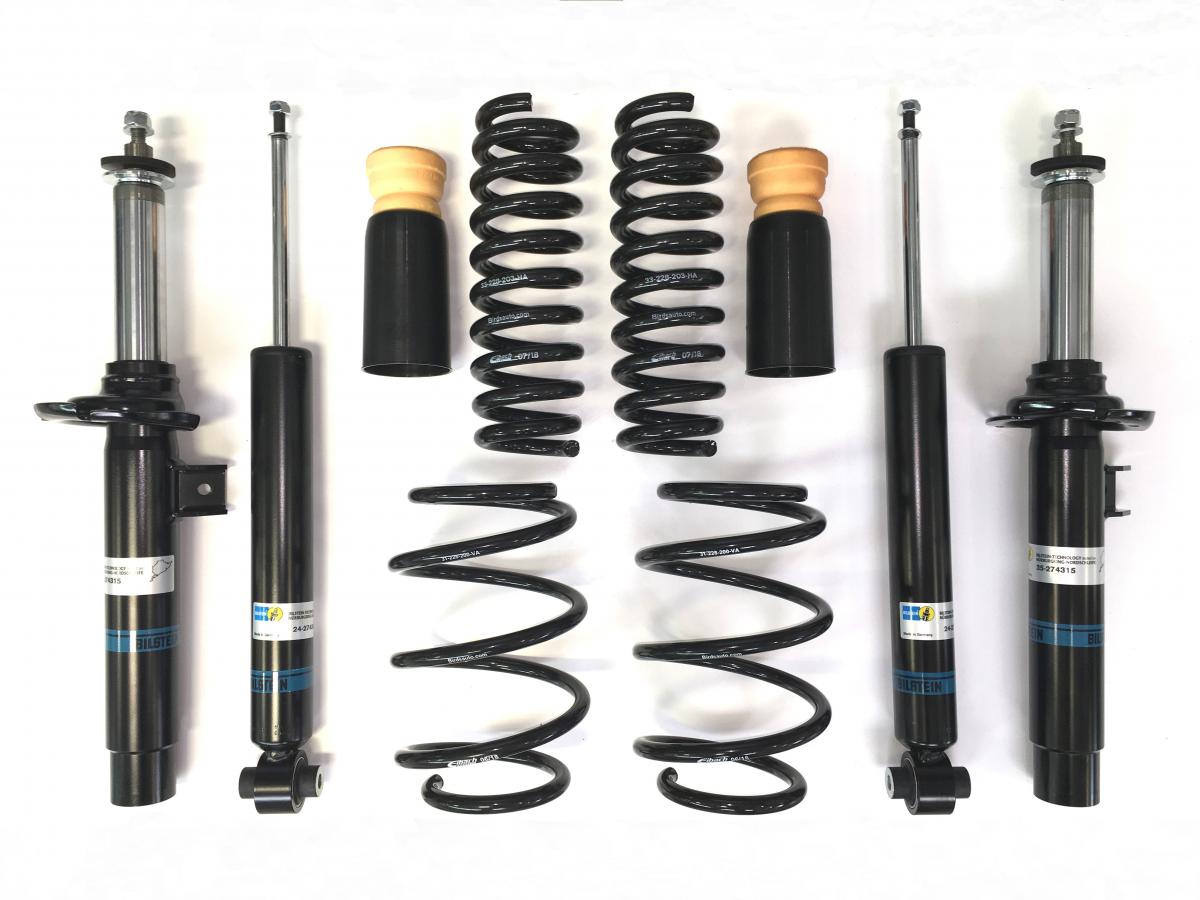 B-Series Sport Suspensions – Birds' B1 (M135i/M140i) and B2 (M235i/M240i) B-Series Sport Suspensions consist of specially valved Bilstein dampers and accompanying Eibach springs to Birds' own spec, designed specifically for our bumpy UK roads. Signed off by legendary ex-racing driver James Weaver and his chassis engineer Pete Weston, our aim is to provide the driver with the best possible combination of ride, handling and traction attributes for fast and safe road driving, without sacrificing the practicality of standard BMW ownership. Now available in "OE Black".
Why we did it
At Birds, we believe that a BMW, first and foremost, must deliver pure driver appeal - a far more subtle and finely-textured concept than raw straight-line performance or cornering grip or, indeed, any other headline asset. In contrast to the fleeting thrill, it's the route to lasting satisfaction. Our mission? To create performance upgrade packages that will transform the standard BMW into a truly rewarding high-performance road car, without sacrificing the practicality of day-to-day ownership.
For many of us, BMW's M-Power models aren't the right choice. They're expensive (to buy and to maintain), uneconomical, and too aggressive for day-to-day use.
But while BMW's 'm-lite' models such as the M135i, M140i, M235i, M240i, are fantastic all-round packages, and tick all of the boxes for many, they fall slightly short of delivering pure driver enjoyment.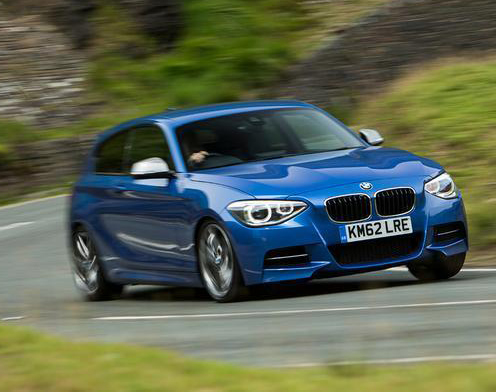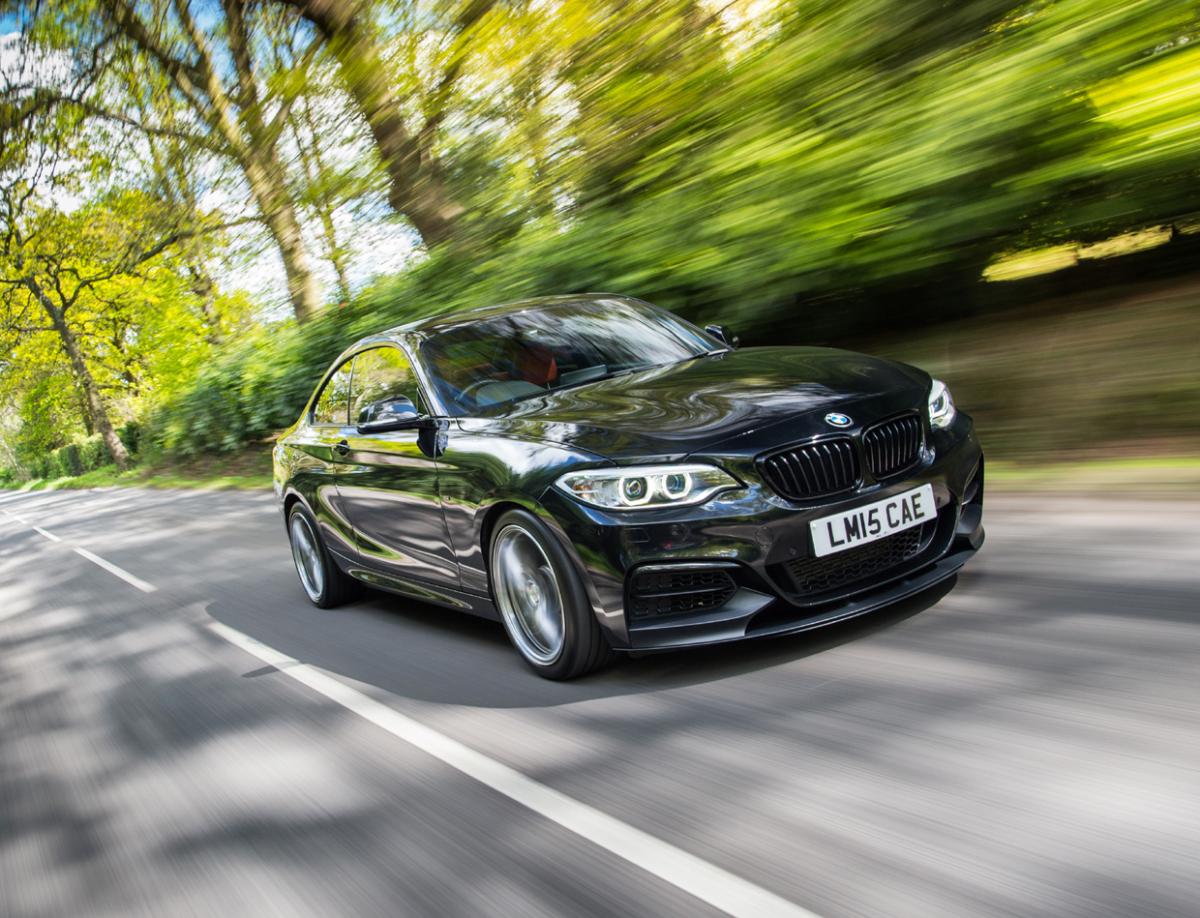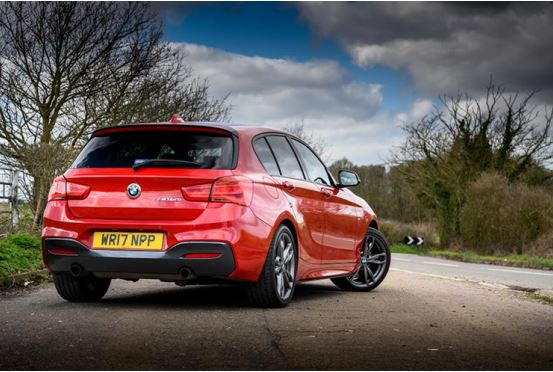 The M140i, M135i and M235i were used as base cars for the B-Series suspension development, and now serve as demonstrators at Birds.
The ride and handling is one of those shortfalls. Given that the suspensions on these cars were developed on German roads, it didn't surprise us to find that the ride quality is quite poor on our bumpy British B-roads (as was the case with the previous E82/E87 1 series).
Although slightly improved compared to the last 1 series, a real lack of compliance when pushing on over these road surfaces was clearly evident, made worse by huge vertical body movement at the rear, and a generally fidgety/jiggly ride.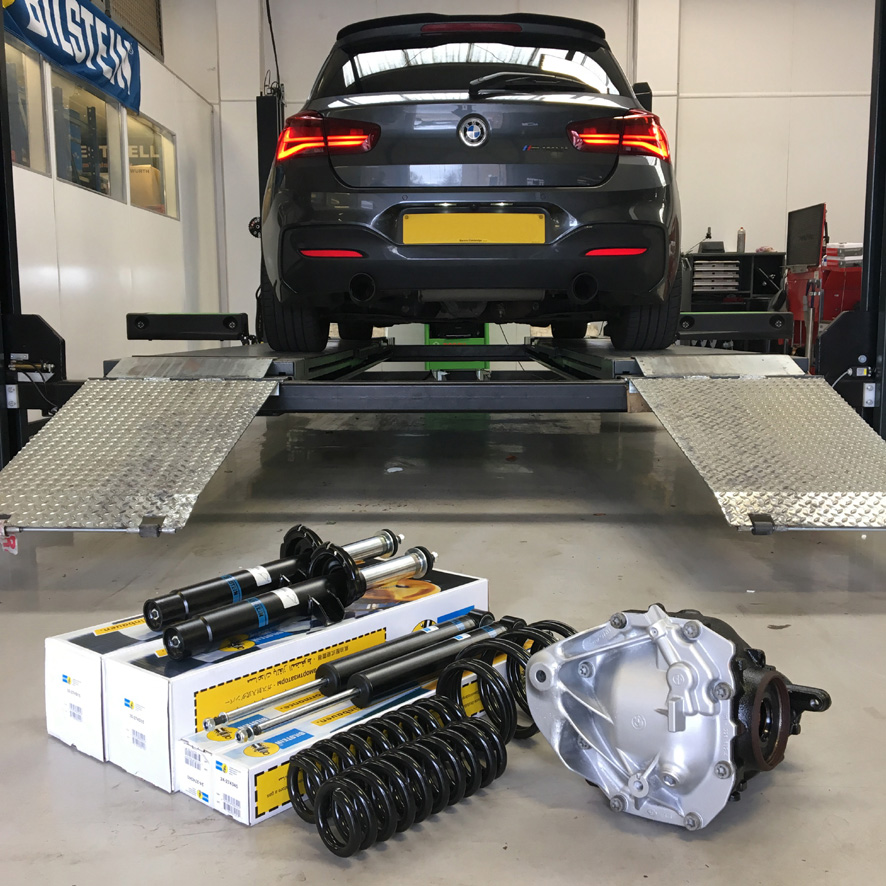 The lack of traction is another. Equipped with overly stiff suspensions, engines producing large amounts of torque, and sometimes run-flat tyres, the absence of a mechanical limited-slip differential is very noticeable for anyone during quick driving, especially in less than perfect conditions. Rear-wheel drive sports cars need power to both wheels (the M-Powers always come equipped with an LSD, of course!).
The Birds Dynamics Package is the ultimate solution. No more lack of compliance and composure on bumpy B-roads, and no more power-sapping traction control intervention. The package is transformational and has received huge praise from customers and journalists alike. We believe these are the only upgrades you will need to transform these machines into truly rewarding and enjoyable driver's cars.
Editorials
Once we have finished completely converting the latest BMW to full Birds spec, we give it to some of the UK's top motoring journalists and car magazines. Follow the links below to read the full reviews;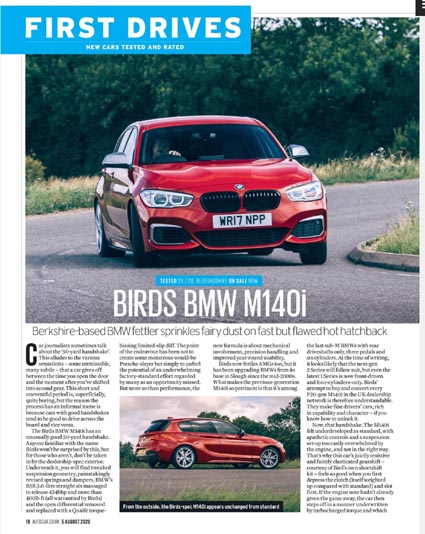 "Birds' changes are transformative in this respect, and through faster sweepers there's the palpable sensation of the rear suspension uniformly kneading the wheels down into the road as the hatchback body remains supple but controlled above it. The car's rebound damping is especially impressive, and so crests, potholes and corrugations don't jaggedly disrupt your enjoyment..."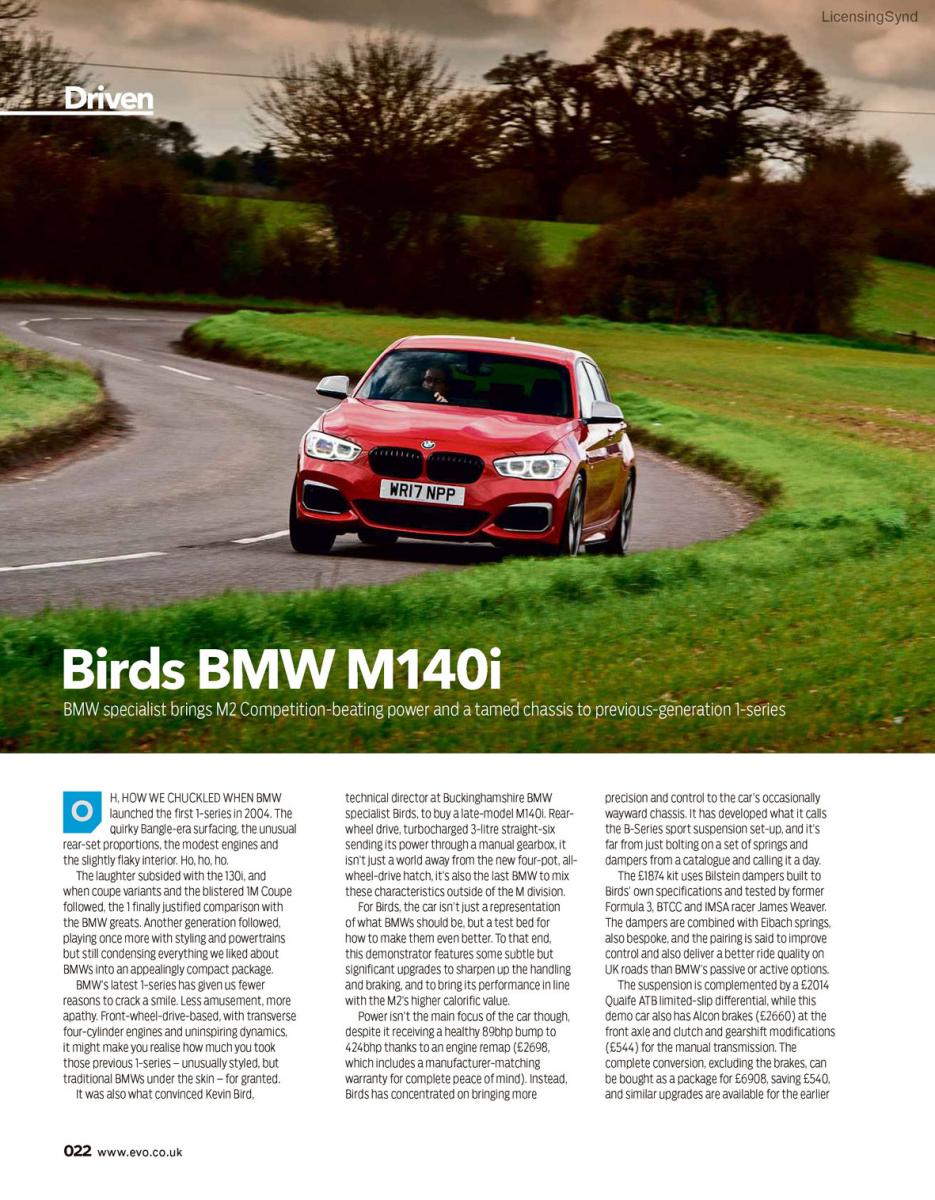 "... as quickly as the national speed limit signs appear, the car enters a zen state. Any harshness seems to disappear, and the car's movement feel at once fluid and tightly managed, with enough suspension stroke from the near-standard ride height to deal with more uneven road surfaces."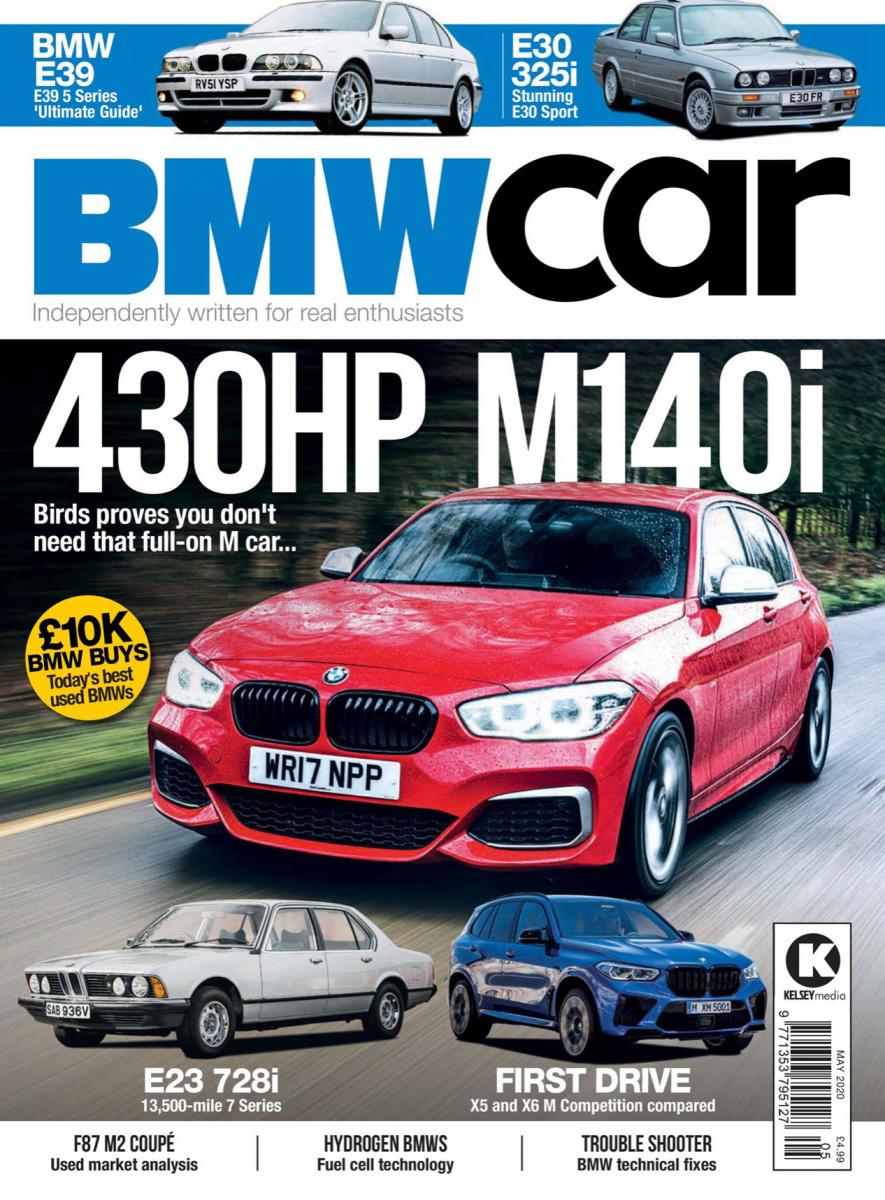 "It's the chassis changes that really bring this car alive and they're ably demonstrated in the poor weather where the standard car can feel a little out of its depth. It's so much more confidence inspiring with the diff hooking up the drive really well..."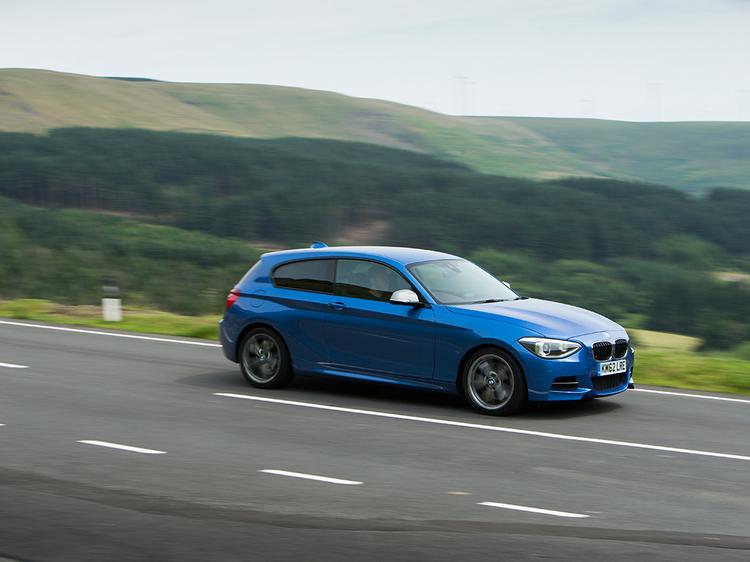 "Our M135i out-punches the M2 by 25bhp and 51lb ft of torque, so it feels stronger through the mid-range and more urgent near the redline. But with less power to deploy to the road, and wider tyres with which to do it, the M2 does have better traction..."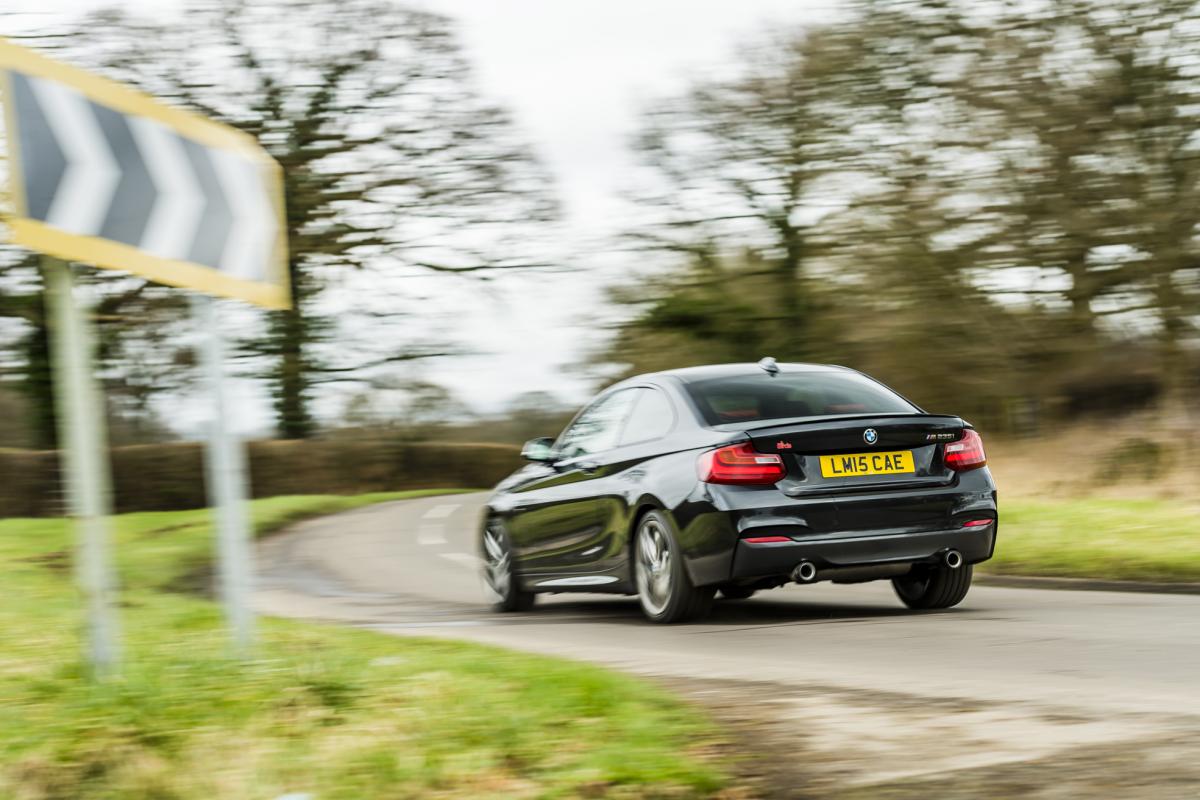 "Not only was the ride quality better than before, ultimate body control improved on our bumpy B-roads and the steering feel improvements were in a different league."
Follow Autocar's long-term M135i review online here, including details on our B1 upgrade development project and their thoughts on the results.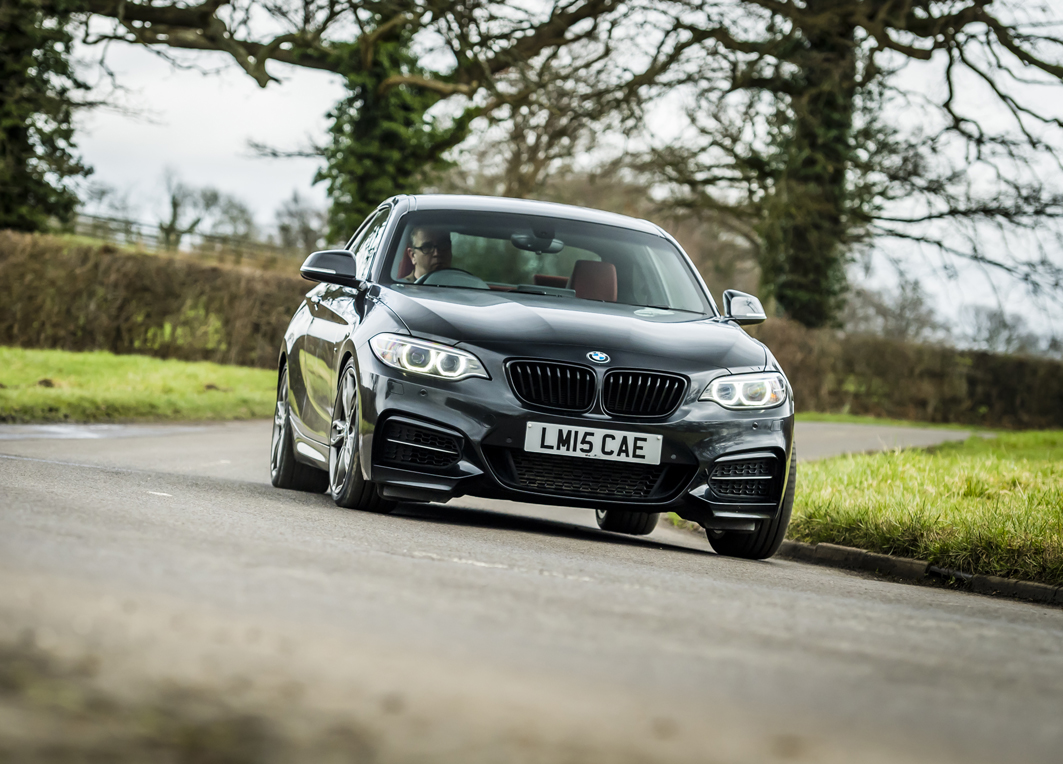 "Without exaggeration, the B2 conversion is transformative. There's more composure in the ride quality and the uprated suspension is much better equipped to deal with uneven roads."
"The meaty engine responses are sharp without being edgy and delivered without the faintest hint of reactive nerves from the chassis. Although the helm answers inputs alertly and accurately, it filters out the rigours of bumpy roads with poise..."
Kevin Bird on the Dynamics Package development
"The primary aim? To provide the driver with the best possible combination of ride, handling and traction attributes for fast and safe road driving.
Secondly, and perhaps more importantly, to give the driver feedback. How to describe this... The thrill of driving? The joy of driving? We don't think anyone has yet put the meaning of this into words. Happily, though, we are confident that the products of our work adequately translate into the correct experience. Maybe it's easier to feel it rather than express it.
Finding the problems in the standard car isn't too hard. With more than 300hp at the driver's command, yet without a limited-slip differential to distribute that power and torque to both rear wheels, there is no possibility of gaining 100% traction in the first, second, or even third gear without some artificial regulation of the engine performance. There is hard evidence gained via data logging that the engine performance is limited in the engine management in the first few gears, and that's before the irritating traction control chimes in!
Interestingly, the traction control warning lamp has also been suppressed, and we can only imagine that BMW don't want the driver to "see" the results of pedalling the car too hard.
Then we have the ride quality and body control issues. Apart from the suspension tune, which BMW invariably get wrong for UK roads, the quality of the dampers seems to be the achilles heel of all the F-Series chassis. If you have run to the additional expense of Electronic Damper Control (EDC), you might be particularly disappointed to find that Comfort is too soft for meduim speed driving, Sport is too hard and crashy for slow speeds, and is definitely not at all pleasant on bumpy roads at high speeds. Those settings also interfere with throttle and gear change attributes, when they are not wanted. Even if you like the attributes, why do you have to press a button to get the car to handle properly?
Irritatingly, it's clear that BMW do know how to tune a chassis properly. Think of the 1986 E30 M3, with it's truly wonderful chassis, body control, ride and handling, superb steering feel, an altogether wonderful driving experience.
We believe our B-Series Dynamics Packages get very close indeed, and certainly match the M3 for body control and traction, even with more power than the M3. Maybe we could improve the steering more than we already have, but that would be beyond the realms of reasonable affordability.
Speaking of which, significant efforts were made to contain body roll without resorting to the useful method of adding anti-roll bars to the package. Yes, they control the body roll, and can be tuned to bias the chassis away from under-steer. However, there are unwanted characteristics such as "head-rock" where they react to changes in camber when running in a straight line. Yes, it feels sporty, and reduces body roll, but if that can be achieved through tuning of the dampers, then it's an expense that can be avoided.
So we have packaged the Quaife, together with our own springs, Bilstein dampers specially valved to our own specifications, alongside increased track width for the front axle, and front and rear geometry changes to improve stability. We are totally sure there is no more competent package out there.
Just going back to the E30 M3 for a moment. The original version on 15" wheels was pretty much perfect, but the design was "evolved" into something different. BMW M were tasked to make the car sportier because some customers demanded it. They installed 16" wheels, different dampers and springs along with some stiffer bushings, along with some engine tweaks. Some would say that the car handled worse, but many believed it was better, and certainly felt "sportier".
We can't speak for every customer, but there will definitely be some out there who want an additive sportive flavour. For that reason, we also offer anti-roll bars biased to remove under-steer, and will also cater for those who express a desire for 19" wheels. The Joy Of Driving has no measurable units. It's entirely dependant on what satisfies each individual."
A note about tyres...
If your BMW is equipped with Run-flat tyres, we cannot stress enough how important it is to rid yourself of these performance sapping devices! In our opinion, the arguments proposed by BMW for these tyres is totally misjudged, and we know of no customer who regrets replacing them with conventional tyres.
A second note. All tyre brands do not perform similarly. Our recommendations are based on UK road conditions, and provide the best in wet weather grip and handling. If you want race style tyres, we can provide them.
Additional options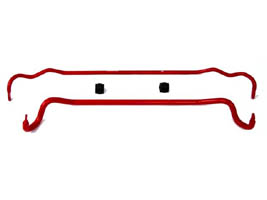 Anti-Roll Bars – B1/B2 anti-roll bars complement the chassis balance on track. Fast drivers will immediately note the prevalent under-steer inherent in the standard BMW chassis. As a consequence we provide significantly more rear stiffness than the front, biasing away from under-steer. However, with stiffer roll bars you will compromise some of the ride comfort achieved with our B-Series Suspension set up. We believe that we have dialled out enough of the body roll within our B-Series Suspension Kit for 95% of our customers, especially those who only use their cars on road.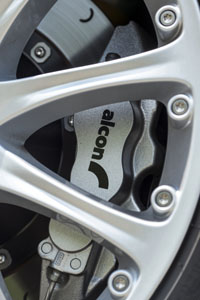 Brakes – Alcon Ø365x32mm curved vane ventilated and grooved discs for the front axle, featuring low weight alloy hubs, with a unique floating rotor system to prevent vibration and fade. Six piston alloy callipers for reduced weight and mighty stopping power. The feel and progression of these brakes allow fierce braking right up to the point of ABS actuation, both in the wet and dry. Fully protected against corrosion, and they work from cold right up to racing temperatures. The M135i requires a minimum of 19" wheels.
Our promise
As with all Birds Conversions, expert advice comes as standard. We treat all customers as individuals, and recognise that every individual has their own set of desires and criteria. We have more than 30 years experience in the BMW tuning arena, more than any other organisation in the UK, and know how to get the best performance from BMW cars. We are enthusiasts and are happy to discuss in detail every aspect of the performance of your car. Options are many, but please let us guide you toward 'Ultimate BMW Performance'. We will deliver pure driver appeal and superior performance from your BMW.