News - QUAIFE ATB Limited-Slip Differential for BMW E46 M3, E90/92 M3, E60 M5, E63 M6, E85/E86 Z4 M, E82 1M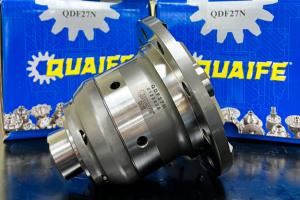 Date: 17/08/2023
Birds are pleased to announce the release of a brand new QUAIFE ATB Differential specifically designed for the BMW E46 M3, E90/92 M3, E60 M5, E63 M6, E85/E86 Z4 M, and E82 1M models.
The new QUAIFE ATB Differential QDF27N has been engineered to work with the original differential output shaft flanges, reducing the conversion cost for customers by more than £350 (+ VAT/taxes)!
**Please contact us for prices and information.**
How is the Quaife ATB Differential superior?
The BMW M Differential uses a basic clutch type LSD which wears out over time, deteriorating in performance before eventually needing to be replaced. They are given an average lifespan of around 60,000 miles, but we have seen them fail as low as 30,000 miles when used aggressively. What's worse is a new BMW M Differential for the E46 M3 will cost you more than £3120 + fitting...
When the time comes to replace your BMW M Differential, the QUAIFE ATB Differential is a superior solution. By using a clever scroll gear system that biases torque to the wheel with more grip, it has no wearing components and comes with a limited lifetime warranty. Its torque-biasing design is better at putting traction down too - constantly detecting wheel slip and manipulating the torque accordingly, and applying it in a progressive, user-friendly manner.