SPECIAL OFFER: NOW CLOSED Birds B-Series Suspension Kit for BMW E9x 3 series and E8x 1 series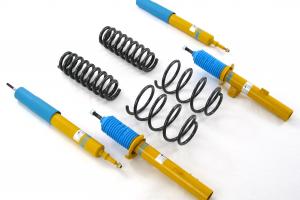 Transform the ride and handling of your BMW with Birds' highly-rated B Series Bilstein Sport Suspension at a special offer price of £1318 installed, down from £1518.
Birds B Series Suspension Kits consist of specially valved Bilstei n shock absorbers and bespoke sport springs, assessed for each individual BMW model. The kit is designed to significantly improve ride quality, comfort, balance, compliance and handling performance on U.K roads.
Whether your existing parts are due to be replaced, or you simply can't bear the "crashy" and non-compliant standard suspension any longer, our B Series set up is the ultimate suspension solution for the BMW 1 and 3 Series models. Check out our glowing editorials and testimonials from journalists and customers!
Conditions: First 5 sets sold only. Applicable only to following models; E87 and E82 1 Series, and all E90, E91, E92, E93 3 Series.
Warranty: 24 months without mileage limitation.
Contact us for more information on any of our annual winter special offers!
Tel: 01753 657 444, Email: [email protected], Web: www.birdsauto.com.