Mercedes r172 SLK55 AMG QUAIFE limited slip differential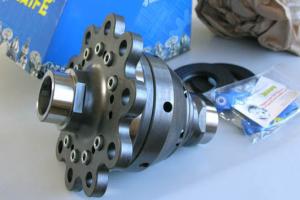 NOW IN STOCK!! The popular Quaife LSD (limited slip differential) upgrade for the Mercedes r172 SLK55 AMG (prod. years 2012, 2013, 2014, 2015) is now in stock and available at Birds!
The Quaife ATB limited slip differential offers a guaranteed, bullet-proof LSD solution. Once installed, drivers will notice an immediate difference as the Quaife LSD automatically biases the torque across the axle to the wheel with the most grip. Unwanted wheelspin and slip are greatly reduced, the car becomes much more controllable during oversteer, and it's able to transfer its power to the tarmac with maximum effect.
Unlike conventional clutch-plate locking limited slip differentials, there are no clutches, ramps, springs or other components that wear out and require maintenance. Quaife's helical gear system is designed and guaranteed to last the life of the car. This unique gear system also allows for a progressive and intuitive transition to oversteer, rather than aggressive clutch-types that can be known to 'lock' and 'snap' out of turns, and is why it is a favourite for RWD road cars such as the Mercedes SLK55 AMG.
The Quaife is guaranteed to work flawlessly with all of the standard Mercedes electronics and equipment (the Quaife will not affect any other components on the car) and it comes with its own limited lifetime warranty.
Product code: QDF36B.
Parts Price: £959.02 (includes output shaft seals).
Installed Price: £____ (we will need the car for 1 day).
Prices exclude U.K VAT. Shipping worldwide available.
IMPORTANT: All Mercedes Quaife ATB differentials are developed, commissioned, stocked and distributed exclusively by Birds Garage. Visit www.quaife.co.uk for more info.
Do not accept imitations. Other gear type LSDs on the market in the USA or elsewhere are either replicas, or very closely based on the Quaife ATB but with added features to avoid patent violation. They cannot match Quaife's reputation for engineering quality, since 1965.